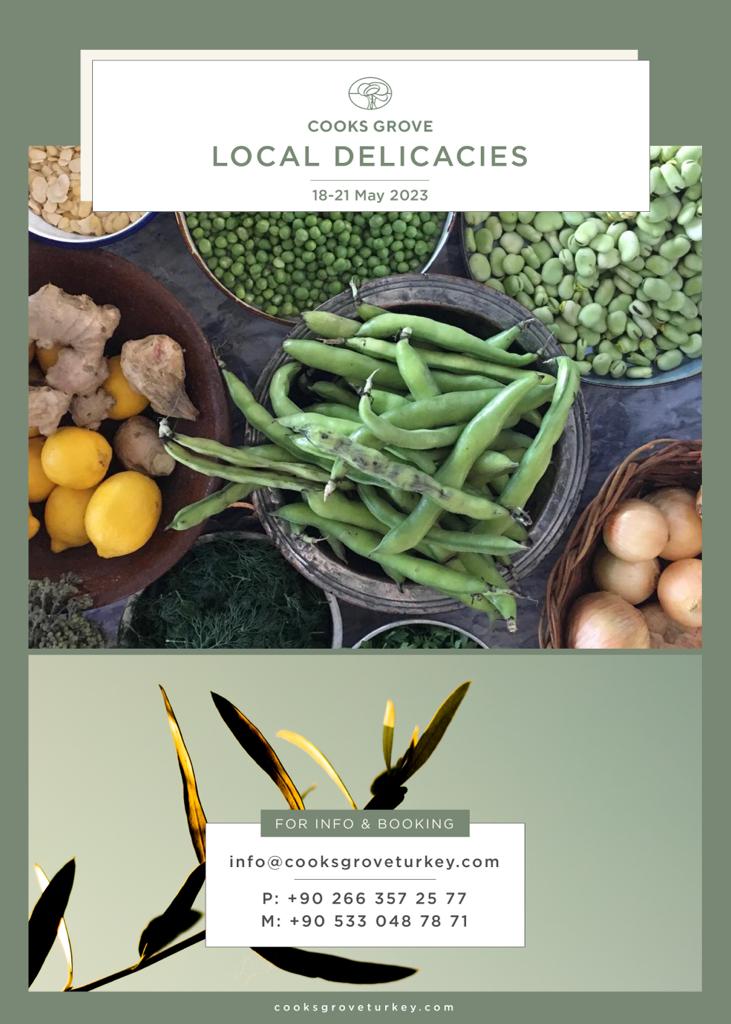 "Food is geography and the geography you live in designs your eating habits"
The Teaching Kitchen: Local Delicacies
This 3-day workshop with Chef Şemsa Denizsel invites food lovers to explore the regional cuisine of Turkey's Northern Aegean coast. In a land known for its olives and high-quality extra virgin olive oil, our Local Delicacies workshop gives an introduction to the flavors, specialty ingredients, and delicious dishes from the area. The program consists of hands-on cooking lessons, foraging, shopping in the local farmers' market, day-trips and tastings with artisan food producers, as well as communal meals at Cooks Grove and in local restaurants.
The itinerary of this program will start off with a welcome cocktail and dinner at Cooks Grove on May 18th and will finish mid-day on May 21st. The finalized program will be announced latest on March 30th, 2023.
The spring 2023 Local Delicacies workshop at Cooks Grove will be hosting only 12 guests.
Scheduled Dates: 18-19-20-21 May 2023
Duration: 3 days
The program includes meals, all activities listed in the itinerary, guest accommodations and transportation between activities. Participants will be hosted in local hotels in the nearby town of Ayvalık or Cunda. Airfare and transfers to/from airport are not included in this program; however, if flights are organized arriving/departing from the Balıkesir Koca Seyit Airport (EDO) in Edremit, Turkey, transfers can be arranged at additional cost. Itineraries are subject to change based on weather conditions and scheduling adjustments.
For reservation/confirmation full payment is required.
For cancellation up to 42 days prior to arrival date full reimbursement will be made; as for any later cancellations, we are sorry to inform no refunds will be made.
All participants should be +16 of age.